Milford Hospitality Group's Monthly Newsletter
Get into the holiday spirit in Milford on Saturday, December 3rd with activities throughout the town all day long. Enjoy cookie swaps, photo booths, Mr. & Mrs. Claus, extended shopping hours, luminaries, the Annual Tree Lighting with Santa and so much more! Events will take place throughout the borough of Milford. For more details on businesses participating, visit milfordpa.us
Girl's Night Out: Holiday Edition
Grab your girlfriends and head into Milford Borough to wrap up your holiday shopping by shopping the small businesses of Milford!
Kindred Spirits Presents: CHRISTMAS A CAPELLA – Calmus Ensemble Leipzig
Sunday December 11|1:30 pm
Greatly admired across the globe, these outstanding German singers will bring to Milford a two part program spanning eight centuries and numerous cultures: "Christmas Then and Now" and "Carols From All Over The World". The event will commence with a short presentation by the DVHS Choir under the direction of Richard Horst.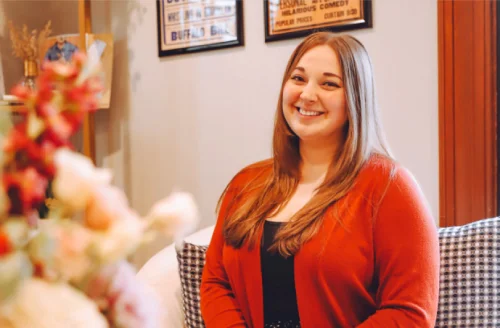 Meet Chiara, The Milford Theater and Performing Arts Center resident stage manager/theatre manager! Chiara has enjoyed the fine art of theater and performing since she can remember. "I have been singing, dancing, and acting for as long as I can remember, but I officially started my journey in the theatre world in the 7th grade when I joined the theatre group at school." Chiara went on to study theatre all throughout middle school, high school and college, and graduated with a BA in Theatrical Performance & Direction. After her college experience, Chiara continued to perform in local community theaters until the opportunity of Resident Stage Manager at The Milford Theater presented itself in 2021.
When asked her favorite part of working in Milford, Chiara says, "What I love most about working here is the closeness of the town. Not only in the ability of being able to walk from business to business, but also between the people and the atmosphere the town creates. It is its own little "oasis"," While Chiara admits the job can be a long and demanding process, she says there is something so special and rewarding about being a part of something bigger than yourself that you helped create. "My favorite part of the theater in general is the amount of possibilities that lie behind those house doors. Not only is there so much to learn in all of the ever-growing and ever-changing technical aspects, but you very literally can be anything you want to be as soon as you step foot on that stage. The Arts are so important in our lives and in our communities, and getting to be a part of making that happen every day is something I have always dreamed of."
We appreciate all of your help and expertise in bringing life back to The Milford Theater, Chiara! Keep up the good work!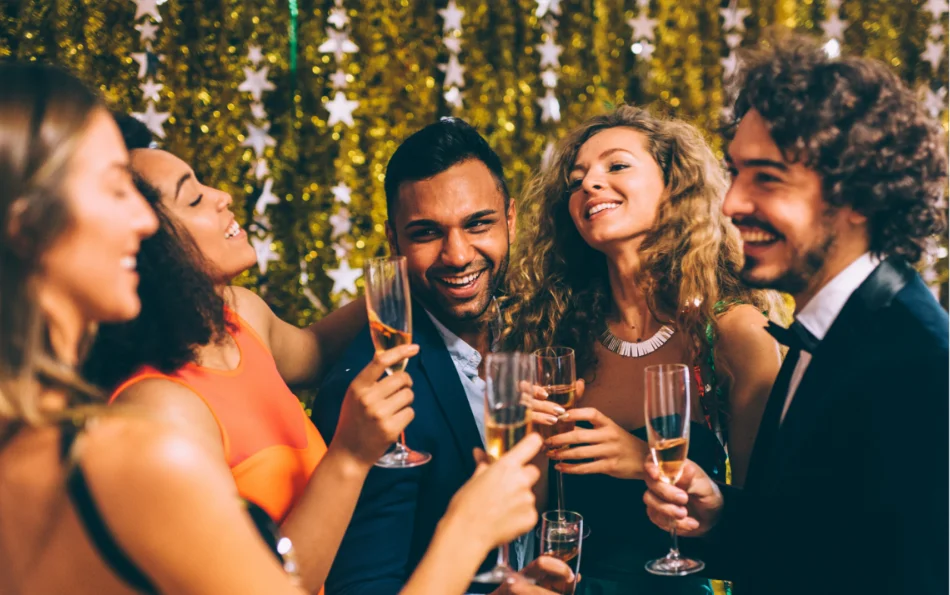 Tom Quick's First New Year's Eve Gala!
Looking for a special way to ring in the new year? Countdown to midnight with us at Tom Quick Inn for our first ever New Year's Eve Gala event! Saturday, December 31st, 8pm – 1 am. Your ticket to the celebration includes live music, a photo op set up, party favors, passed hors d'oeuvres, a dessert station and a champagne toast at midnight. Cash bar will be open in our very own Speakeasy – The Varsity Room! Featuring our mixologist, Robby, who serves the most delicious and unique cocktails. Just $54 per person which includes tax and gratuity. Dance the night away and ring the New Year in right with us at Tom Quick Inn. To purchase tickets, visit Tom Quick's First New Year's Eve Gala!
Log Tavern Brewery December Events
James Coleman Live Music Friday, December 2, 5-8pm!
Santa Crawl – Pike Autism Support Services Santa Crawl starting at 12pm, Sunday, December 11.
Holiday Paint and Sip – Thursday, December 8th from 5-7pm price $25 and Thursday, December 18th from 5-8pm price $35. Price includes painting and first beer or wine! Hosted by Inspiring Instruction's – Suzy Williamson. No experience needed! Snacks available.
Log Tavern Brewing and Mad Indie Media present Open mic Night – Their first open mic night starts Wednesday December 14. Sign ups start at 5:30pm, music starts at 6pm.
There's a New Tenant at Apple Valley Village!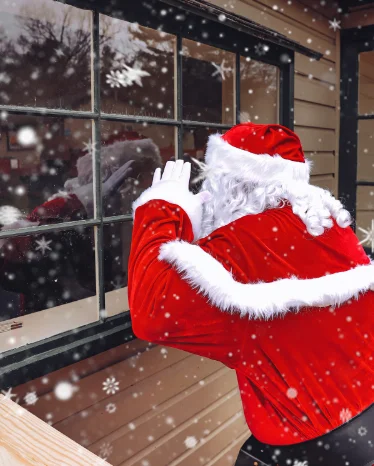 Apple Valley Village has some exciting news! We welcome Mr. and Mrs. Claus as the new tenants in the village and their space has been transformed into a meet and greet and photo opportunity with Santa!
Santa will be at his Christmas cottage, located next to Schrader Creations in Apple Valley Village, and available to meet and take photos with on the following dates: Saturday & Sundays December 10, 11, 17 and 18th from 12-4pm.
Mr. and Mrs. Claus are excited to see everyone!
Horse Drawn Sleigh Rides Through Milford Start Friday, December 9
What's better than a horse drawn sleigh ride through town during Christmastime AND helping out a good cause? Horse drawn sleigh rides are $5 per person and a portion of all proceeds will be donated to Gait Therapeutic Riding Center. Meet us at the corner of W. Catharine and Broad Street at the Hotel Fauchere to experience your sleigh ride through Milford! Fridays & Saturdays | December 9, 10, 16, 17 from 4-9pm
Your Igloo Dining Experience Awaits at Hotel Fauchere
Back by popular demand!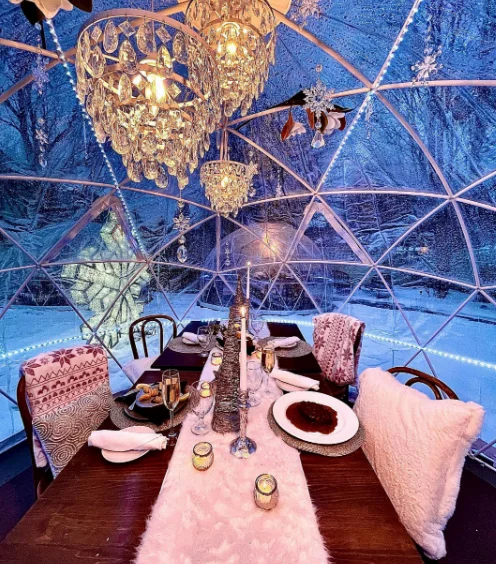 Igloo dining is back at Bar Louis at the Hotel Fauchere. Enjoy the beauty of winter, without the cold, as you dine semi-al fresco in one of our four heated igloos located in our back garden. Each igloo accommodates between 4 and 8 guests and are available for 2 hours per seating. Reservations are required. Igloo experience is subject to a 20% gratuity. Reserve your experience!
If you're interested in reserving an igloo for a party of under 4, please call 570-409-1212 for details.
Family Movies at The Milford Theater This Month
The Milford Theater is your local spot for family friendly holiday movies!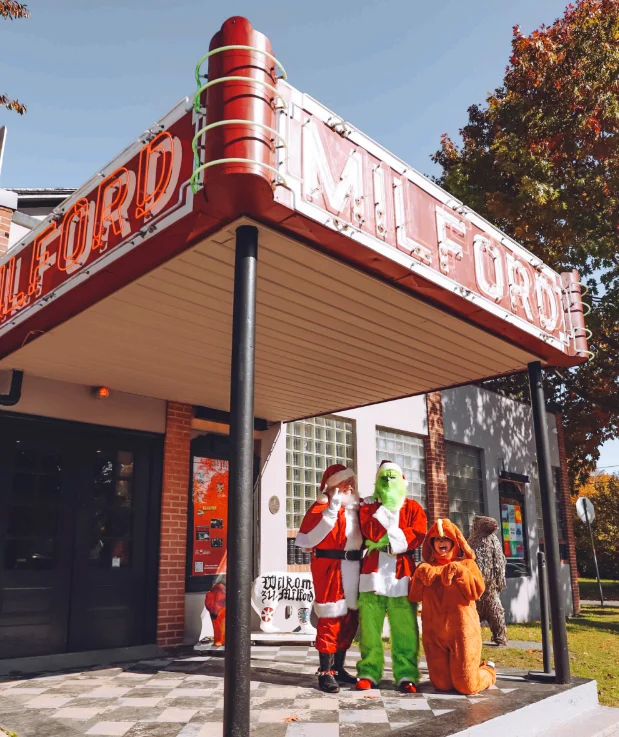 The Grinch & Santa Meet & Greet & Movie!
Dr. Seuss' The Grinch (2018) | Sunday, December 4
Join us in the Milford Theater Lobby before the movie at 11:30 AM to meet The Grinch AND Santa Claus! The Milford Theater Bar will be open at 11:30 am, serving wine, beer, cocktails and concessions. The movie beings at 1pm.
It's a Wonderful Life w/ John DiLeo
Sunday December 4 | Theater bar 3pm | Movie 4pm
Special introduction to the film and a Q&A following with John DiLeo, prominent film historian, critic, and author of seven books about classic movies.